)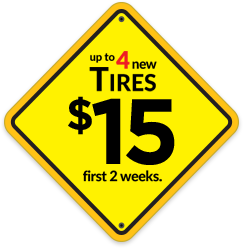 Rent brand new tires!










How It
Works

Tell Us About

Your Vehicle
Get started by filling out the
fields above and clicking
Check Availability.

Complete A

Brief Application
Come in to the store to meet with a
Mikes' associate and make your
1st payment.*

Roll Out

On New Tires
A Mike's associate will arrange your
installation. Tires are usually ready
to roll in the same day!
*2 weeks payment required for installation
Why MIKE'S?
Don't take the risk of buying used. Keep your family
safe with brand new tires at affordable rates.
NO Credit Needed
Low Weekly or Monthly Payments
Professional Installation
FREE Mounting and Balancing
Brand New Tires
120 Days Same as Cash
Own New Tires in 52 Weeks (most sizes)
Free Flat Repair*
Renting is Easy, Safe, and Hassle-Free
Usually Ready to Roll in the Same Day
*When You Have "The Deal" learn more
Below is a list of common prices for a set of 4 tires
Chevy Malibu: P215/60R16
$19.99/week
Dodge Caravan: 225/65R17
$24.99/week
Ford Focus: P195/65R15
$20.99/week
Chrysler Town & Country: 225/65R17
$22.99/week
Ford Explorer: 235/70R16
$19.99/week
Ford Taurus: P215/60R17
$19.99/week
Dodge Avenger: P215/60R17
$24.99/week
Ford F150: 245/70R15
$21.99/week
Honda Accord: P215/60R16
$19.99/week
Real Testimonials from
Real People
– Jenny Sanders, Salina, KS
I thought slipping and sliding in the rain was normal.. turns out it was my bald tires! Thanks to Mike's I feel much safer when driving in bad weather.
– Lillian Howe, Hutchinson, KS
I had no idea tires could be so affordable. Consider me a renter for life, I'm never buying tires again!
– Brett Stevens, Concordia, KS
I feel safer and more in control on my long commute thanks to Mike's. Who knew you could rent new tires?
Only the Best Tire Brands in the Nation
*Tire brands and models vary by location